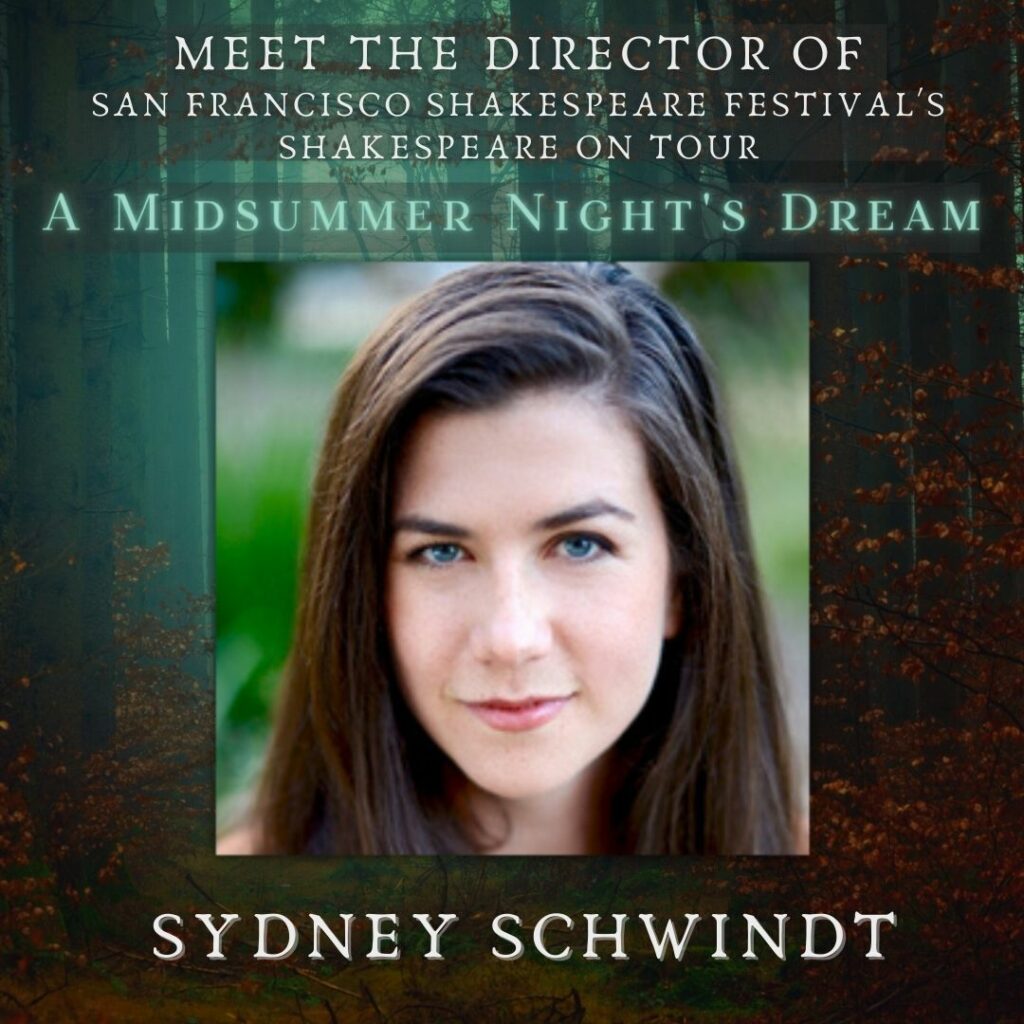 Sydney is a Resident Artist with SF Shakes and an actor, fight director, teaching artist, and visual artist. She is also a visiting professor of movement (specializing in Commedia and Clown) at Indiana University and the former stage combat instructor for the graduate program at American Conservatory Theater. Along with bringing her experience of physical comedy, clowning and stage combat, Sydney plans to explore environmental awareness and consent thematically in the direction of "Midsummer."

SF Shakes: Tell us about your past experience with Shakespeare on Tour?
Sydney: I joined SF Shakes through the spring leg of the tour in 2015 as Rosalind in As You Like It. I had such an amazing time! I fell in love with that show and tour – as well as making some life long friends! I joined the cast of the next tour of Hamlet in 2015-2016. I played Gertrude, Marcellus, and a player, as well as being tour manager and fight director. I joined again for the 2019-2020 production of Macbeth as assistant director and fight director.

SF Shakes: What attracts you to this production of A Midsummer Night's Dream?
Sydney: A Midsummer Night's Dream was actually the first show I ever did!
In fourth grade we did a shortened version from "Shake Hands with Shakespeare". I wanted to be a fairy so badly, but I was cast as Hermia – the one and only time I'll ever play that role because, for those that don't know, I'm pretty tall. It was my first introduction to theatre and from that moment on I was in love with it. So it really was the play that propelled me into this career! It has all the fun and intriguing elements to get a child to fall in love with Shakespeare, but more importantly with theatre, magic, and play.
The real question is what doesn't attract me to Midsummer! I think it's a nearly perfect play with magic and rhyming couplets. I love the three different worlds that exist – the mechanicals, the fairies, and the lovers. Each time I return to this play, I fall in love with a different character. There is no bad role in this show. Even the smaller roles are so rich and full of life! It's a treat for the performer, but also for the audience. Its mass popularity and rich language allow it to be a vehicle for some very relevant topics as well.

SF Shakes: What is your directorial vision/ what is exciting you thematically?
Sydney: Thematically, this show is of great interest to me because of two different avenues; environmentalism and consent. Environmental work and environmentally conscious theatre has always been at the core of my work as an artist and a human. We at SF Shakes are a member of the EarthShakes Alliance. During the pandemic, there was the first Globe4Globe Conference about Shakespeare and Environmentalism as well as EarthShakes launching their website with lots of resources. It was wonderful! I found myself incredibly inspired by the piece This Distemperature by Parrabola so named after Titania's speech. I felt the relevancies of Midsummer even more reflected in the changing environment. I'm really interested in how we can highlight that in this condensed version. The fairies in our production will take the shape of local California flora and fauna and give a voice to our non human neighbors.
I was also incredibly inspired by our Midsummer Takes on Shakes video during the pandemic which was directed by the amazing Akaina Ghosh. It delves into the concept of consent by exploring the love potion and magic performed on people without their consent. I often teach with Livermore Shakespeare's So Wise So Young Program which brings A Midsummer Night's Dream to 2nd graders in the Livermore school district and this always comes up! Students are always wondering if Demetrius is still under the love potion and if that's fair. They also recognize that it's not nice that Oberon puts a spell on Titania. Since this production goes to schools, I think this is a great way to start this conversation.

SF Shakes: Why this play for this audience?
Sydney: This play is perfect for introducing audiences of all ages to Shakespeare. There is something for everyone!

I'm particularly excited for these directorial concepts to be brought to the tour audience. Our environment and consent are two very relevant topics for school aged children particularly in California. This show is made for them. It is made to inspire questions and to spark conversations. I believe theatre is to get our audience to ask questions and not provide answers – to be the fuel for them to critically ask questions and come to the answers on their own.

SF Shakes: Anything else we should know?
Sydney:  I'm so excited about this production. We have an amazing cast and we get to lean into what SF Shakespeare does best – reaching out to our community!